Listen to a service
Whether you missed a service and would like to catch up; were there and want to listen again; or have never been to Springfield Park Baptist Church and want to find out what goes on in our church on a Sunday morning, you can listen to one of our recent and some older services here, as well as the latest recording that is available on our home page.
This page contains audio recordings of a selection of our services. It will be regularly updated.
Click the links below to download mp3 files to listen to off line, the links will open in a new tab and take you to the 'Box' website. Click the Download button on that page to get the file.
7th April 2019, Ephesians 3:14-19, Paul's Prayer.
24th March 2019, Ephesians 3:1-19.
17th March 2019, Ephesians 2:19-22. With Communion.
10th March 2019, Ephesians 2:11-22 - Barriers.
3rd March 2019, SPLAT service - sing with all of God's creation!
24th February 2019, Ephesians 2:10 - We are God's masterpiece!
17th February 2019, Ephesians 2:8-9 Salvation God's way. With Communion.
23rd December 2018, Nativity Service.
26th August 2018, David and Bathsheba, with John Lancaster leading.
22nd July 2018, Psalm 23. With Cij Moston leading.
15th July 2018, David, Samuel anoints. With John Lancaster and Communion.
8th July 2018, SPBC's 83rd anniversary service. With guest preacher Charles deLacy.
10th June 2018, Ephesians 2:1-10, Dead saved to do! With guest preacher Rev Keith Roddy.
27th May 2018, The Trinity, with guest preacher Arthur Rowe.
13th May 2018, Acts 1:12-26 Witness with us.
6th May 2018, Acts 1:1-11 Ascension, with guest preacher Arthur Rowe.
29th April 2018, John 21:15-25 with guest preacher David Harper.
22nd April 2018, John 21:1-14 The catch of fish.
15th April 2018, John 20:19-31, Thomas has doubts. With guest preacher Melvyn Sach and Communion.
8th April 2018, Luke 24 The Emmaus road.
1st April 2018, Easter Sunday all age service. John 20 v1-31, Resurrection.
18th March 2018, our youth lead the service.
4th March 2018, SPLAT service.
25th February 2018, John 10:22-39, many believed.
18th February 2018, John 9:1-41, the man born blind. With Communion.
11th February 2018, John 10:1-21, the shepherd.
25th December 2017, the Christmas Day Service.
18th December 2017, the Sunday Evening Carol Service.
18th December 2017, the Nativity Service.
26th November 2017, the reading is from Hosea 13:1-6.
5th November 2017, the reading is from Hosea 5:8 - 10:15.
22nd October 2017, Hosea 3:1-5 with guest preacher Melvyn Sach.
24th September 2017, SPLAT service featuring the story of Ahab and Naboth.
17th September 2017, joint service with our visitors from Middelkerke, Belgium.
10th September 2017, 1 Kings 19:19-21 Elijah and Elisha. The commissioning of Alison Hovell as our new Youth and Community Worker, with Communion.
13th August 2017, 1 Kings 17:7-24. Taking Risks.
6th August 2017, 1 Kings 17:1-7, the first summer memory verse and some ravens.
23rd July 2017, Galatians 5. With guest preacher Arthur Rowe.
2nd July 2017, SPLAT - on the theme of perseverance.
18th June 2017, Galatians 1:1-10 - The Early Church. With Communion.
4th June 2017, Acts 2:1-21 - Pentecost, with visiting preacher Melvyn Sach.
21st May 2017, Acts 1:1-11 - The Church in action. With communion.
23rd April 2017, Luke 24 - On the road to Emmaus. With communion.
Easter Sunday, 16th April 2017, 1 Corinthians 15:1-11.
Mothering Sunday, 26th March 2017, Matthew 18:1-14.
26th February 2017, Matthew 13:44-52.
12th February 2017, Matthew 11:25-30.
15th January 2017, Matthew 3, The voice of John the Baptist. With Communion.
1st January 2017, Luke 2:21-40.
Christmas Day, Sunday 25th December 2016.
18th December 2016, SPBC's Sunday evening carol service.
4th December 2016, 2nd Sunday in Advent, reading Luke 1:26-38 'Mary's story'.
20th November 2016, Youth Service, led by our young people.
23rd October 2016, Hebrews 6:9-20 with guest preacher Arthur Rowe.
16th October 2016, Harvest service.
9th October 2016, Hebrews 5:11 - 6:8 Growing Good?
11th September 2016, Hebrews 2:5 - 3:6 Jesus our pioneer, liberator and apostle, with Roger Stark.
21st August 2016, Exodus 15:1-11 with John Lancaster.
31st July 2016, Exodus 1:11 - 2:25 with Arthur Rowe.
17th July 2016, with Roger and Jo Stark, Genesis 22 with Communion.
5th June 2016, Genesis 11:27 - 12:9 New Beginnings.
22nd May 2016, Philippians 4:1-9 Stressed out or what?
8th May 2016, Philippians 3:1-9 Real Christianity.
1st May 2016, Philippians 2:12-30 Transformation complete!
24th April 2016, the Baptismal service of Rosie Hovell.
10th April 2016, Philippians 1:12-26.
13th March 2016, Luke 18:35-43.
28th February 2016, theme 'perseverance'.
31st January 2016, Luke 6 Good Grain and the Pharisees.
All Age Sunday Worship, 27th December 2015.
Carols by Candlelight, Sunday afternoon, 20th December 2015.
Remembrance Sunday, 8th November 2015.
3rd August 2014 SMILE service.
2nd March 2014, SPLAT service.
What's On?
Listen to a Service
You can download a selection of our services to listen to off-line on our Listen Again page.
The latest recording can also be found near the bottom of our home page where there is a player that can be used to listen to it or you may download it to listen to later.
Big Easter Breakfast
The form for booking your breakfast requirements is now on line. To join us for breakfast on Easter Sunday 21st April see the Big Easter Breakfast page.
40 Days of Love
Join our Lent study group every Tuesday evening until Easter 6:30 to 8:30pm. Meal included, at the church Hub, come and see how to love your community. For more information and to reserve a place email info@springfieldparkbaptistchurch.org.uk
Come to The Big Easter Breakfast on Sunday 21st April at 9:00am before our Easter Sunday service at 10:30am.
From our Foreign Correspondent
India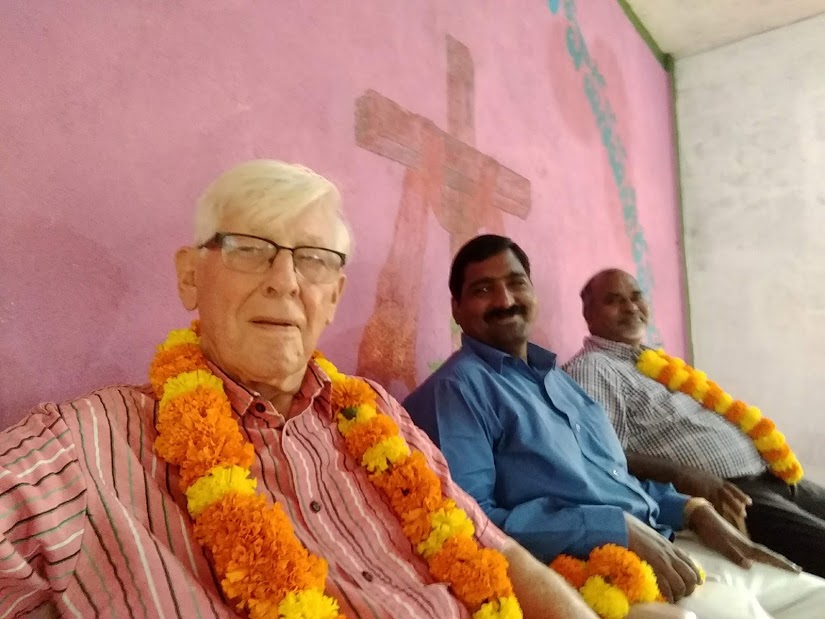 See an account of John Lancasters 2018 visits to India here.
Follow Johns latest mission trips to India and see more pictures of the people and places he visits by joining Johns mission trip to India on Facebook.
Thursday Lunch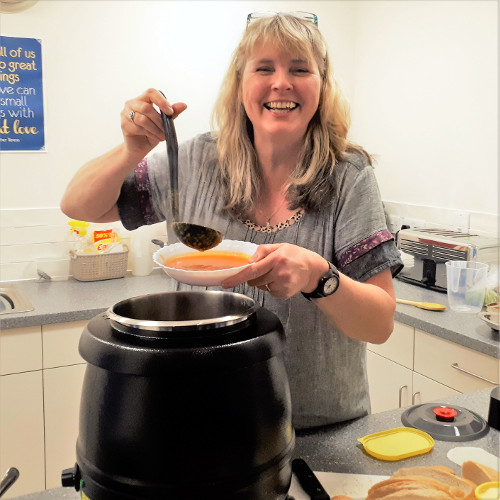 Why not join us for some fresh home made soup or a toastie? Lunch is served every Thursday from 12 noon to 1 pm in the Church Hub following the Coffee Hub. With lovely fresh food, all are welcome to come and lunch together. Donations towards the cost are invited.
Toddler Group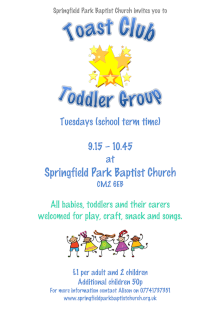 Repair Hub
We have a community repair and mend group, meeting every Thursday at Coffee Hub 9:30 am – 12 noon. So bring along those things that need fixing – vacuum cleaners / bikes / mowers / old garments that need a make over etc. and we will have a go at fixing them. Why bin it when we can fix it!
Technically minded repairers are particularly welcome on Thursdays!!
Tool Box Project
Do you have any spare tools or craft items? We are collecting them for Tools With a Mission. See the list on our Tool Box Project page for details of what we currently need.
Springfield Stitchers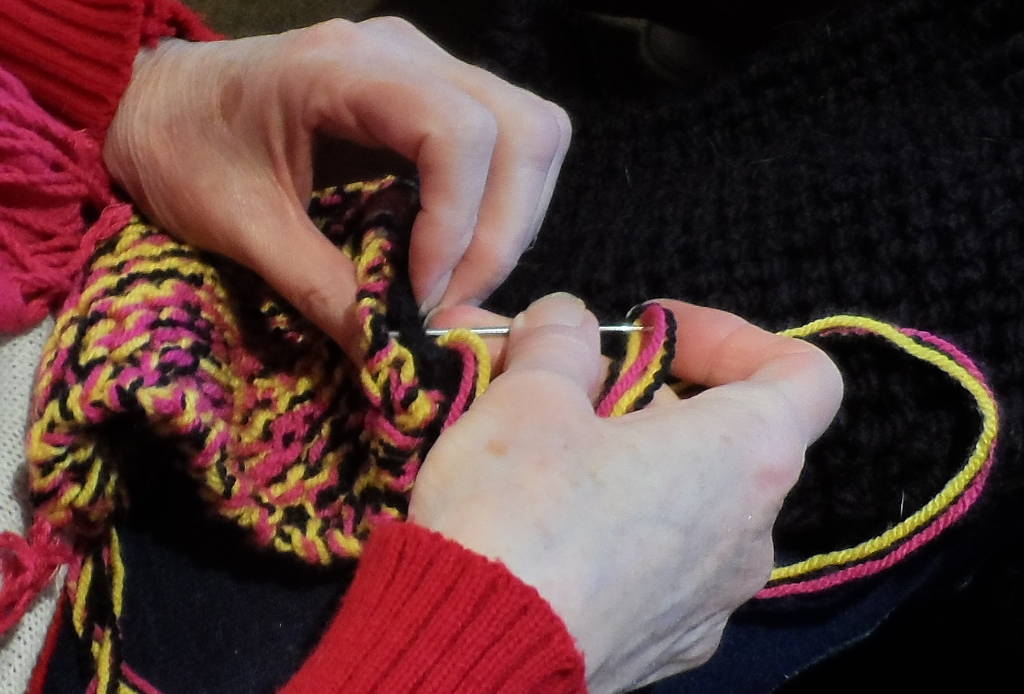 Can you knit, crochet or sew?
The Springfield Stitchers need help with various charity projects. If you would like to help or, if you would like to learn to knit, crochet or sew, or if you have unwanted wool or haberdashery (buttons, zips, thread, fabric, sewing machines) please pop along to find out more.
The Springfield Stitchers meet at "The Coffee Hub" every Thursday 9.30 till 12.00 at Springfield Park Baptist Church. Contact Alison for more information.

As a church we believe in the power of prayer and that it makes a difference in situations and circumstances. We are part of Chelmsford 24-7 Prayer, joining with Christians from across our City to pray for the things God lays on our hearts. Please follow this link for more information about how you and your church can get involved: https://chelmsford24-7.org/. Plans for the near future at Springfield Park involve the setting up of a new prayer space and prayer walks around our local area. Watch this space for developments.
Coffee Hub
Come to our coffee drop-in on Thursday mornings from 9.30am to 12 noon. All welcome for free coffee, tea and a chat.

See more from SPBC on Facebook.
Upcoming Events
Sun, April 21, 2019

Tue, April 23, 2019

Wed, April 24, 2019

Thu, April 25, 2019

Sun, April 28, 2019

Tue, April 30, 2019
If you have an event to add to the diary please email us the details.
Our pages and links
Please only click once on downloads and external site links. External websites will open in a new page or on a new tab so you don't lose your place here, and other items will either open in a new page or download to your default download folder, depending on your device settings.