IEM Food Aid Project
The Indian Evangelical Mission (IEM), which Springfield Park Baptist Church supports through our Missions Budget, preaches the Gospel and plants churches throughout India. IEM is therefore ideally placed, through their contacts and representatives, to distribute Food Aid to needy folk all over India. The need is great, as there are many thousands of people who work as domestic maids and auto drivers, as well as carrying out other lowly tasks, who are unable to work as a result of the strong lockdown imposed by the Government, due to the Covid-19 virus. Many of these are refugees or migrant workers unable to return to their homes. They are unable to buy food, and are going hungry, and actually in danger of starvation. IEM is concerned for them, and has decided to help. They are making up packs of food, containing rice, flour, dal, sugar, tea, soap, cooking oil, and are distributing them in poor areas of cities such as Bangalore, Chennai and Mumbai, where some hundreds of packs have already been distributed They have also sent packs to many of the tribal areas where they work, such as Bonagiripalli in Telegana. Here are pictures of the distribution there.
This work is costing a great deal of money, on top of the ongoing commitment to support nearly 1,000 workers. Each pack costs about 800 rupees, equivalent to about £8.50 in UK money. Friends of IEM UK, which exists to promote IEM in the UK Church, is supporting this vital work, and has written to all supporters asking for help. There have been reports in the UK media with details of the situation. If you feel moved to help, you can send a gift to Friends of IEM UK. You can send it by Bank Transfer to AC1 Friends of IEM, Sort Code 77-62-13, Account number 06824868, or you can send a cheque made out to Friends of IEM to Dr. Chris Hardy, 13 Burnside Drive, Burnage, Manchester. M19 2LT. In either case please send an email to Chris at chrisandpearl@talktalk.net, telling him the amount you have sent, so that the transfer to India can be quick. Apologies that this is quite a procedure, but we can't ask you to put a gift in the offering at present! One day we will meet again! Thank you!
What's On?
Wet Your Whistle
Every first and third Wednesday in the month, join us for a chat and tea or coffee, biscuits and maybe even cake. Click the image for more information.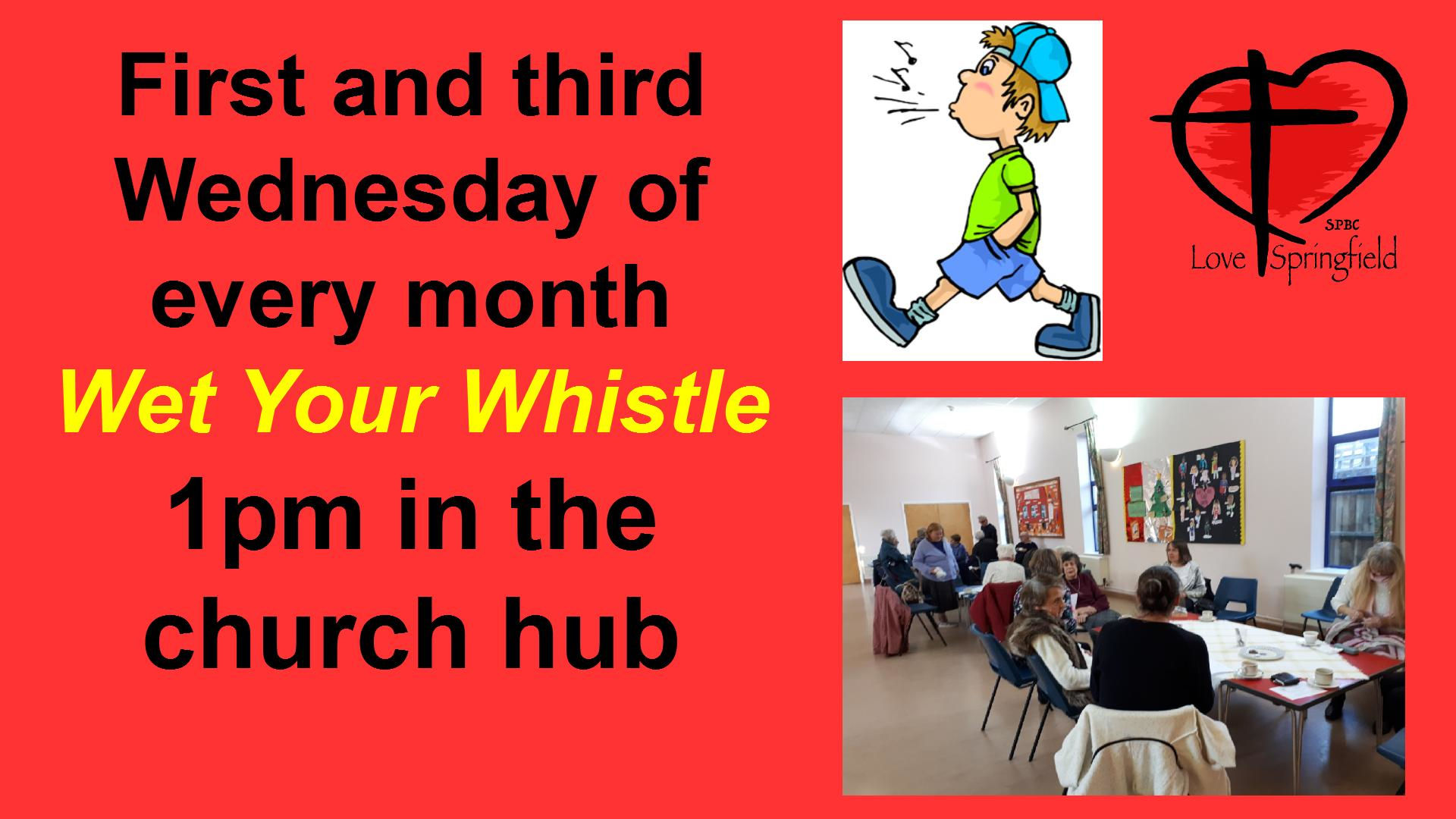 Coffee Hub
Coffee Hub is every Thursday morning between 9.30 and 12.00. Please drop in for tea, coffee and a chat.
Toddler Group
To get us back into the flow, we will be limiting numbers for a little while, so BOOKING IS ESSENTIAL. Also, we would kindly ask for no more than 2 children per adult at this time. We will review the situation weekly, and relax these rules as soon as possible.
Please phone or text Alison on 07741 737351 to book your place. We look forward to seeing you!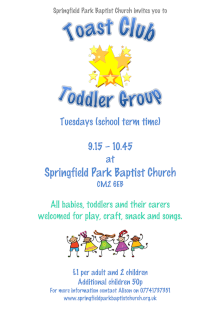 Need Some Help?
If you are self isolating and struggling to get by we may be able to offer some practical help.
Use our request form here to give us your details and one of our volunteers will contact you.
Please note we are only able to offer help within our local community of Trinity Ward, Chelmsford.
Listen to a Service
You can download a selection of our services to listen to off-line on our Listen Again page.
From our Foreign Correspondent
India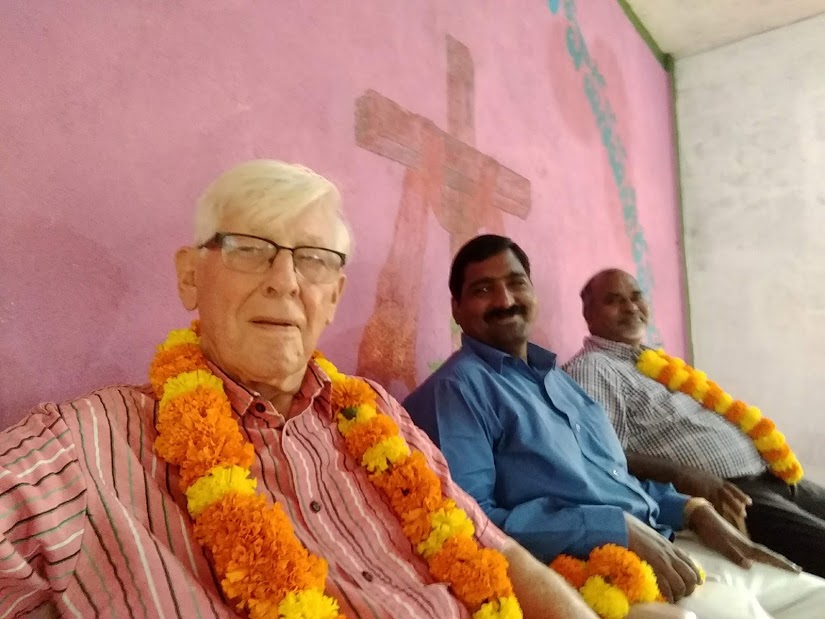 See an account of John Lancasters 2019 visits to India here.
Follow Johns latest mission trips to India and see more pictures of the people and places he visits by joining John's Adventures in India on Facebook.
Tool Box Project
Do you have any spare tools or craft items? We are collecting them for Tools With a Mission. See the list on our Tool Box Project page for details of what we currently need.
Coffee Hub
Come to our coffee drop-in on Thursday mornings from 10am to 12 noon. All welcome for free coffee, tea and a chat.

See more from SPBC on Facebook.
Our pages and links
Please only click once on downloads and external site links. External websites will open in a new page or on a new tab so you don't lose your place here, and other items will either open in a new page or download to your default download folder, depending on your device settings.