Sunday Service 7th June
Here is our eleventh virtual service in the ongoing UK Coronavirus Lockdown. Make sure to scroll down all the way to the bottom of the page so you don't miss anything. If you didn't see last weeks service and would like to catch up, you can see it here. Links to all the services are also on the Listen Again page.
Don't forget, you should also take a look at last week's service again to see what comments have been left and to respond to them where appropriate.
If you would like to contribute an item for next week's service or for another week contact Roger or leave a message in the comments below. It looks like we will be having to continue with our virtual services for a while, and it will be good to get as many involved as possible.
Psalm 23
This week Roger has suggested that we could all collaborate on making a video of a collective reading of Psalm 23. It would be great to see all of you take part in this. All you need to do is video yourself reading it out using your phone, tablet or laptop webcam, and upload the video file to our server. Email the church using the address at the top of this page or by clicking the button below, saying you are taking part and we will send you a link that will allow you to upload the file.
Making your video
Reading the psalm takes less than one minute, so you could make more than one video, using a different location or background for each one or something even more creative. It will help enormously with the editing if your video is in landscape format, so please turn your phone sideways before hitting the record button, and if we all read from the same translation of the bible, so please use the NIV, and don't read too fast. As a guide, I have recorded it three times and each recording lasts 52 or 53 seconds making a 30MB mp4 format file. Please note we need your video clips by Saturday 20th June.
The King of love my shepherd is
Choral version by Collegium Regale
A new song in my heart
When I Was Lost by Kate Simmonds, performed by The Stoneleigh Band.
Reading – John 10:1-21
The Good Shepherd and His Sheep
1 "Very truly I tell you Pharisees, anyone who does not enter the sheep pen by the gate, but climbs in by some other way, is a thief and a robber. 2 The one who enters by the gate is the shepherd of the sheep. 3 The gatekeeper opens the gate for him, and the sheep listen to his voice. He calls his own sheep by name and leads them out. 4 When he has brought out all his own, he goes on ahead of them, and his sheep follow him because they know his voice. 5 But they will never follow a stranger; in fact, they will run away from him because they do not recognize a stranger's voice." 6 Jesus used this figure of speech, but the Pharisees did not understand what he was telling them.
7 Therefore Jesus said again, "Very truly I tell you, I am the gate for the sheep. 8 All who have come before me are thieves and robbers, but the sheep have not listened to them. 9 I am the gate; whoever enters through me will be saved. They will come in and go out, and find pasture. 10 The thief comes only to steal and kill and destroy; I have come that they may have life, and have it to the full.
11 "I am the good shepherd. The good shepherd lays down his life for the sheep. 12 The hired hand is not the shepherd and does not own the sheep. So when he sees the wolf coming, he abandons the sheep and runs away. Then the wolf attacks the flock and scatters it. 13 The man runs away because he is a hired hand and cares nothing for the sheep.
14 "I am the good shepherd; I know my sheep and my sheep know me — 15 just as the Father knows me and I know the Father — and I lay down my life for the sheep. 16 I have other sheep that are not of this sheep pen. I must bring them also. They too will listen to my voice, and there shall be one flock and one shepherd. 17 The reason my Father loves me is that I lay down my life — only to take it up again. 18 No one takes it from me, but I lay it down of my own accord. I have authority to lay it down and authority to take it up again. This command I received from my Father."
19 The Jews who heard these words were again divided. 20 Many of them said, "He is demon-possessed and raving mad. Why listen to him?"
21 But others said, "These are not the sayings of a man possessed by a demon. Can a demon open the eyes of the blind?"
Holy Bible, New International Version®, NIV® Copyright ©1973, 1978, 1984, 2011 by Biblica, Inc.® Used by permission. All rights reserved worldwide.
Sermon
Every praise
Why not join in with Hezekiah Walker and this flash mob? Try a dance, wave your hands, do something new for the Lord.
Prayer time
Teach us, Lord God, to serve you as you deserve; to give and not to count the cost; to fight and not to heed the wounds; to toil and not to seek for rest; to labour and not to ask for any reward, save that of knowing that we do thy will, through the same Jesus Christ our Lord. Amen.
Lord Jesus, you said,
"Blessed are the poor in spirit, for theirs is the kingdom of heaven."
Lord there are so many temptations in our world that keep us from fully focussing on you. Keep us from being preoccupied with money and goods, and with trying to increase them at the expense of justice. Money or goods although necessary they are of no use to us in our relationship with you.
Lord Jesus, you said,
"Blessed are the gentle, for they shall inherit the earth."
Help us not to be ruthless with one another, and to eliminate the discord and violence that exists in the world around us. Help us to look outwards and not inwards so that we can recognise those in need, those who just need a listening ear or a smile as we pass by. It is so easy to live in our own small world without noticing the difficulties being experienced by others.
Lord Jesus, you said,
"Blessed are those who mourn, for they shall be comforted."
Lord especially at this time we pray for those who have lost loved ones. Not just to Corona virus but also to other illnesses or conditions. Lord it is difficult when loved ones cannot be visited in hospital or in care homes. It is also so difficult for those who cannot properly mourn as funerals have had to be changed during this period of lockdown and social distancing.
Lord Jesus, you said,
"Blessed are those who hunger and thirst for justice, for they shall be filled."
Our world is full of injustice Lord. We think of the situations we hear about in the news in countries like Syria. We think of racial injustice especially at this time and we pray for those who use these instances of racial injustice to further their own objectives. We know that the man killed in Minneapolis by a Policeman is wrong but it is also wrong to meet this violence with more violence. Lord we all feel injustice in our everyday lives in often small and insignificant ways, but help us to react in love rather than indignation to smile rather than get angry.
Lord Jesus, you said,
"Blessed are the merciful, for they shall receive mercy."
Lord you have forgiven us so many times and yet we find it difficult to forgive others. Help us to be merciful and to try and serve others in the way in which we want to be served by them and Lord help us to accept the love and actions of others when it is offered to us. So often we feel that we can cope on our own and do not need the help of others. This help offered is their way of serving us.
Lord Jesus, you said,
"Blessed are the clean of heart, for they shall see God."
Free our minds Lord of all those things that get between us and you. There are so many distractions for us even during these times of lockdown. It is so easy to busy ourselves with insignificant things and then miss out on the more important things. Help us to fix our eyes on you.
Lord Jesus, you said,
"Blessed are the peacemakers, for they shall be called children of God."
Help us all Lord to work for peace in our families. If there is peace that comes from you amongst family, then it will spread to peace amongst friends. This will mean peace in our communities in our towns, cities, country and throughout the world. This seems like an impossible dream Lord so it has to be your peace that we strive to share with all we come into contact with as it is your peace that is everlasting.
Lord Jesus, you said,
"Blessed are those who are persecuted for the sake of justice,
for the kingdom of heaven is theirs."
Make us willing to suffer for the sake of right rather than to practice injustice; and do not let us discriminate against our neighbours and oppress and persecute them.
Finally Lord we ask that you will enable this church to do your will
Make it vulnerable that it may speak with calm humility;
Make it outward looking that it may care deeply
Make it a community of peacemakers and bridge builders
In the midst of turbulence let the church make space
for the hearing of your still small voice.
In Jesus name we pray. Amen.
Before you go
A final short blessing
Is there a song or hymn that would fit in with the theme and what God is saying? You can put a link to it in your comments to share it with everybody.
Thank you for leaving your thoughts on todays service for the encouragement of others. Please leave some feedback or reply to other comments if you feel the same way.
You can use a social media account to log in by clicking the appropriate icon, or not log in at all and post as a guest by clicking the 'Log in' link and ticking the 'I'd rather post as a guest' box.
You will still need to enter an email address for ID, but there is no need to log in with a password.
You can take part in next week's service by following this link.
What's On?
Need Some Help?
If you are self isolating and struggling to get by we may be able to offer some practical help.
Use our request form here to give us your details and one of our volunteers will contact you.
Please note we are only able to offer help within our local community of Trinity Ward, Chelmsford.
Listen to a Service
You can download a selection of our services to listen to off-line on our Listen Again page.
The latest recording can also be found near the bottom of our home page where there is a player that can be used to listen to it or you may download it to listen to later.
From our Foreign Correspondent
India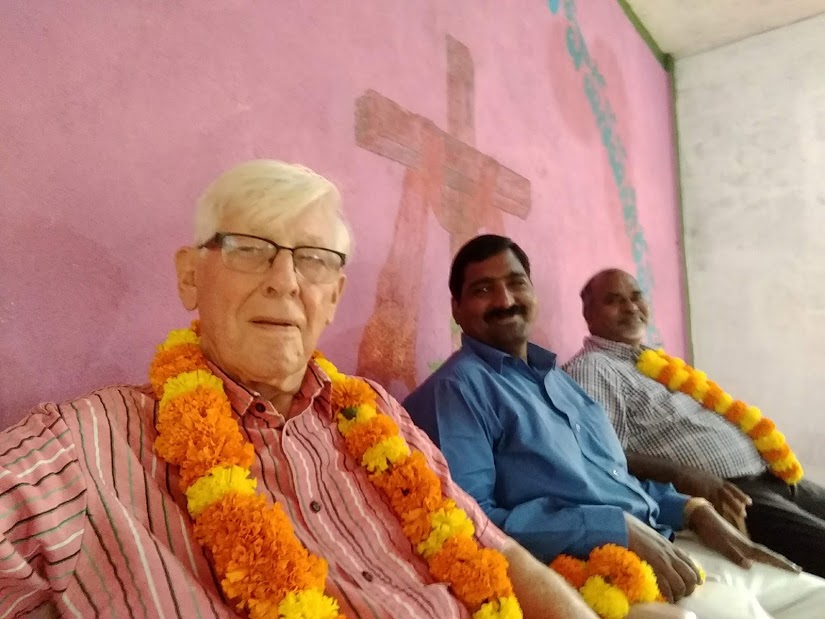 See an account of John Lancasters 2019 visits to India here.
Follow Johns latest mission trips to India and see more pictures of the people and places he visits by joining John's Adventures in India on Facebook.
Tool Box Project
Do you have any spare tools or craft items? We are collecting them for Tools With a Mission. See the list on our Tool Box Project page for details of what we currently need.
Springfield Stitchers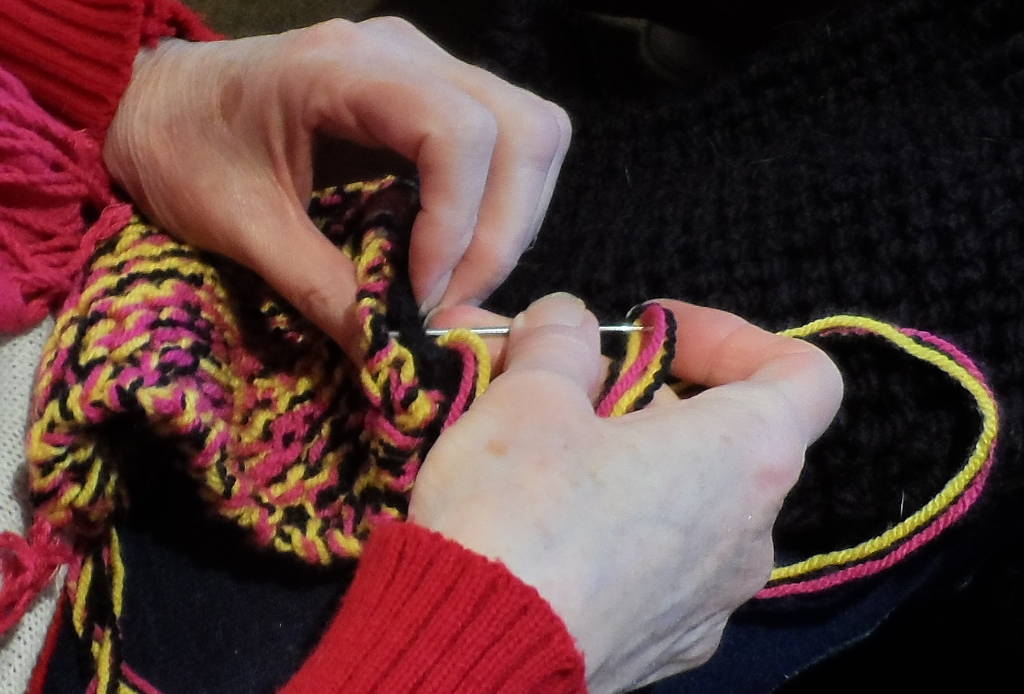 Can you knit, crochet or sew?
The Springfield Stitchers need help with various charity projects. If you would like to help or, if you would like to learn to knit, crochet or sew, or if you have unwanted wool or haberdashery (buttons, zips, thread, fabric, sewing machines) please pop along to find out more.
The Springfield Stitchers meet at "The Coffee Hub" every Thursday 9.30 till 12.00 at Springfield Park Baptist Church. Contact Alison for more information.

As a church we believe in the power of prayer and that it makes a difference in situations and circumstances. We are part of Chelmsford 24-7 Prayer, joining with Christians from across our City to pray for the things God lays on our hearts. Please follow this link for more information about how you and your church can get involved: https://chelmsford24-7.org/. Plans for the near future at Springfield Park involve the setting up of a new prayer space and prayer walks around our local area. Watch this space for developments.

See more from SPBC on Facebook.
Our pages and links
Please only click once on downloads and external site links. External websites will open in a new page or on a new tab so you don't lose your place here, and other items will either open in a new page or download to your default download folder, depending on your device settings.