Virtual Sunday Service 5th April
Here is our second virtual service in the never before seen in the modern world Coronavirus Lockdown. If you missed last weeks service and would like to catch up, you can see it here.
Abide with me
Here is a well known song, with this version filmed at the Community Bible Church and Christian Assembly. Feel free to just sit and listen or sing along with the recording.
Our second song is, "My Life is in Your Hands" sung by the Brooklyn Tabernacle Choir. No excuses for not joining in with this one. Sing loud enough to get the neighbours to join in too.
Reading, Mark 4 V35-41
Jesus Calms the Storm
35 That day when evening came, he said to his disciples, "Let us go over to the other side." 36 Leaving the crowd behind, they took him along, just as he was, in the boat. There were also other boats with him. 37 A furious squall came up, and the waves broke over the boat, so that it was nearly swamped. 38 Jesus was in the stern, sleeping on a cushion. The disciples woke him and said to him, "Teacher, don't you care if we drown?"
39 He got up, rebuked the wind and said to the waves, "Quiet! Be still!" Then the wind died down and it was completely calm.
40 He said to his disciples, "Why are you so afraid? Do you still have no faith?"
41 They were terrified and asked each other, "Who is this? Even the wind and the waves obey him!"
Holy Bible, New International Version®, NIV® Copyright ©1973, 1978, 1984, 2011 by Biblica, Inc.® Used by permission. All rights reserved worldwide.
Sermon
It is well
This hymn was written after traumatic events in Horatio Spafford's life. The first two were the death of his four-year-old son and the Great Chicago Fire of 1871, which ruined him financially (he had been a successful lawyer and had invested significantly in property in the area of Chicago that was extensively damaged by the great fire). His business interests were further hit by the economic downturn of 1873, at which time he had planned to travel to Europe with his family on the SS Ville du Havre. In a late change of plan, he sent the family ahead while he was delayed on business concerning zoning problems following the Great Chicago Fire. While crossing the Atlantic Ocean, the ship sank rapidly after a collision with a sea vessel, the Loch Earn, and all four of Spafford's daughters died. His wife Anna survived and sent him the now famous telegram, "Saved alone …". Shortly afterwards, as Spafford traveled to meet his grieving wife, he was inspired to write these words as his ship passed near where his daughters had died. Composer Philip Bliss called his tune Ville du Havre, from the name of the stricken vessel.
original words:
When peace like a river, attendeth my way,
When sorrows like sea billows roll;
Whatever my lot, Thou hast taught me to know
It is well, it is well, with my soul.
Refrain
It is well, (it is well),
With my soul, (with my soul)
It is well, it is well, with my soul.
Though Satan should buffet, though trials should come,
Let this blest assurance control,
That Christ has regarded my helpless estate,
And hath shed His own blood for my soul.
My sin, oh, the bliss of this glorious thought!
My sin, not in part but the whole,
Is nailed to the cross, and I bear it no more,
Praise the Lord, praise the Lord, O my soul!
For me, be it Christ, be it Christ hence to live:
If Jordan above me shall roll,
No pang shall be mine, for in death as in life,
Thou wilt whisper Thy peace to my soul.
But Lord, 'tis for Thee, for Thy coming we wait,
The sky, not the grave, is our goal;
Oh, trump of the angel! Oh, voice of the Lord!
Blessed hope, blessed rest of my soul.
"There's a lot of darkness but a lot more light"
Heavenly Father, who created light out of darkness, we have much to thank you for:-

• The fact that nothing can separate us from your love;
• Acts of kindness and generosity from neighbours and volunteer helpers;
• Courage and bravery of NHS staff and care workers on the front line;
• Protecting many children from the virus;
• When we self-isolate You remain with us 24/7;
• Recovery of those who were ill but are better now;

But we pray to you for:-

• Comfort for those grieving the loss of loved ones and friends;
• Peace, hope and recovery for those who have the virus;
• Protection for medical and support staff on the front line;
• Procurement staff struggling to source PPE equipment, ventilators, testing kits etc;
• Government and scientific advisors needing wisdom to make just and right decisions;
• Our children facing challenges of learning and social distancing in unfamiliar ways;
• Friends and families of nursing/care home residents unable to fulfil promises to visit – peace and freedom from guilt;
• Release from debilitating effects of fear and anxiety, especially those suffering with mental health issues;
• Adaptability to learn new values/lifestyles rather than craving a return to normality;
• Businesses trying to do the right thing – that they will get help and support;
• Our friend and sister Annick that the different drug to be given to her next Tuesday will be highly effective in her battle against cancer;
• Hearts that will seek You and Your kingdom, content to be Your sheep;
Thank you Lord Jesus for reminding us that "In this world you will have trouble. But take heart! I have overcome the world." (John 16:33)
Please leave a comment for others to read if our service has moved or inspired you in some way.
You can use a social media account to log in by clicking the appropriate icon, or not log in at all and post as a guest by clicking the 'Log in' link and ticking the 'I'd rather post as a guest' box.
You will still need to enter an email address for ID, but there is no need to log in with a password.
Follow this link to the next service (Easter Sunday 12th April).
What's On?
Need Some Help?
If you are self isolating and struggling to get by we may be able to offer some practical help.
Use our request form here to give us your details and one of our volunteers will contact you.
Please note we are only able to offer help within our local community of Trinity Ward, Chelmsford.
Listen to a Service
You can download a selection of our services to listen to off-line on our Listen Again page.
The latest recording can also be found near the bottom of our home page where there is a player that can be used to listen to it or you may download it to listen to later.
From our Foreign Correspondent
India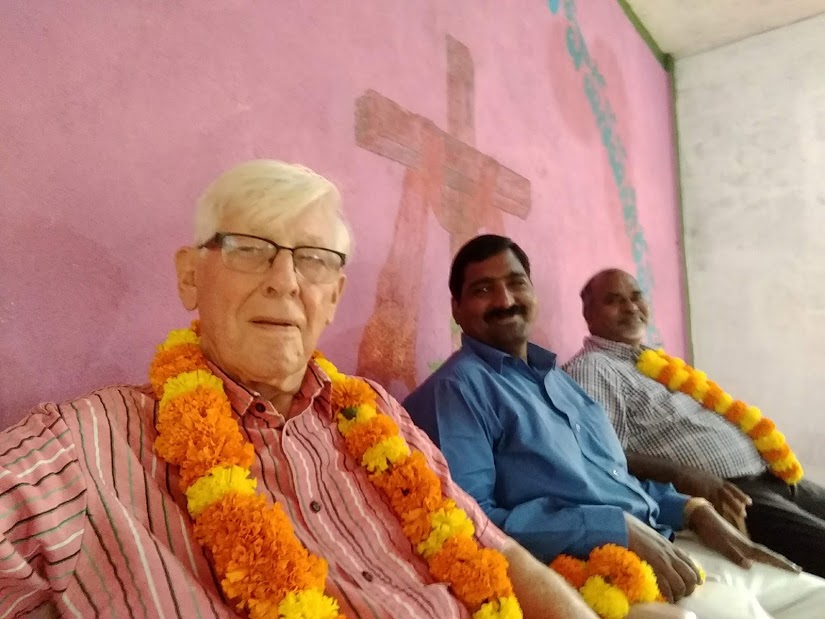 See an account of John Lancasters 2019 visits to India here.
Follow Johns latest mission trips to India and see more pictures of the people and places he visits by joining John's Adventures in India on Facebook.
Tool Box Project
Do you have any spare tools or craft items? We are collecting them for Tools With a Mission. See the list on our Tool Box Project page for details of what we currently need.
Springfield Stitchers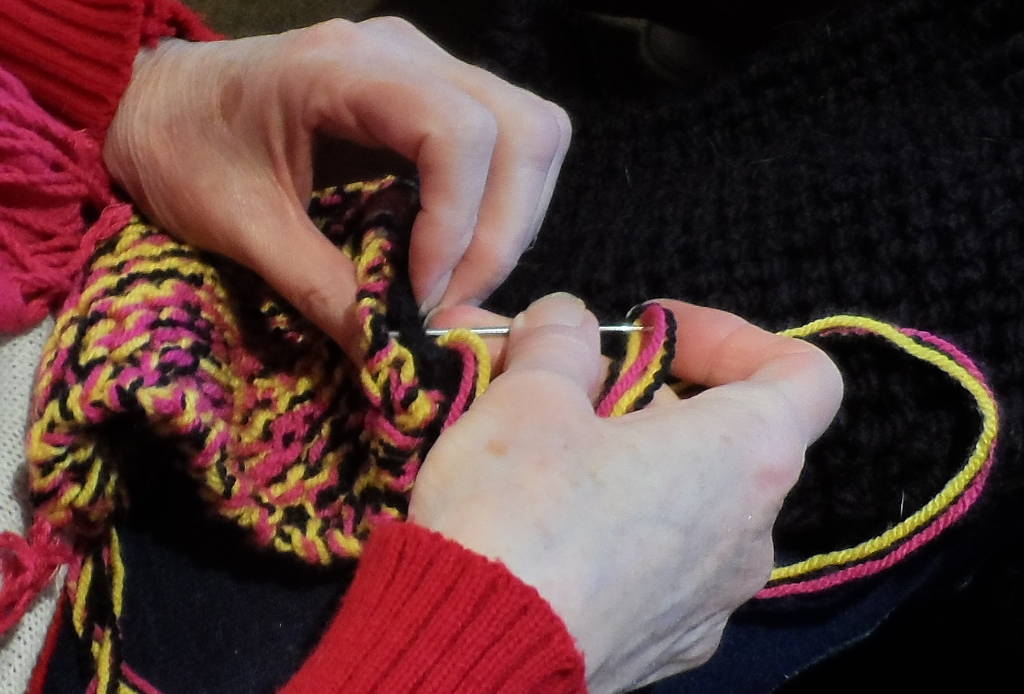 Can you knit, crochet or sew?
The Springfield Stitchers need help with various charity projects. If you would like to help or, if you would like to learn to knit, crochet or sew, or if you have unwanted wool or haberdashery (buttons, zips, thread, fabric, sewing machines) please pop along to find out more.
The Springfield Stitchers meet at "The Coffee Hub" every Thursday 9.30 till 12.00 at Springfield Park Baptist Church. Contact Alison for more information.

As a church we believe in the power of prayer and that it makes a difference in situations and circumstances. We are part of Chelmsford 24-7 Prayer, joining with Christians from across our City to pray for the things God lays on our hearts. Please follow this link for more information about how you and your church can get involved: https://chelmsford24-7.org/. Plans for the near future at Springfield Park involve the setting up of a new prayer space and prayer walks around our local area. Watch this space for developments.

See more from SPBC on Facebook.
Our pages and links
Please only click once on downloads and external site links. External websites will open in a new page or on a new tab so you don't lose your place here, and other items will either open in a new page or download to your default download folder, depending on your device settings.