Easter Sunday Service 12th April
Here is our Third virtual service in the continuing UK Coronavirus Lockdown. Make sure to scroll down all the way to the bottom of the page so you don't miss anything. If you didn't see last weeks service and would like to catch up, you can see it here.
The Power of the Cross
This is the first of our three songs this week, performed by Keith & Kristyn Getty.
Happy Day
You will never be completely happy on earth, simply because you were not made for earth. Oh, you will have your moments of joy. You will catch glimpses of light. You will know moments or even days of peace. But they simply do not compare with the happiness that lies ahead.
All Age
Join Alison and Rosie for a short news bulletin and update on the weather.
Reading, John 20 v1-31
The Empty Tomb
Early on the first day of the week, while it was still dark, Mary Magdalene went to the tomb and saw that the stone had been removed from the entrance. 2 So she came running to Simon Peter and the other disciple, the one Jesus loved, and said, "They have taken the Lord out of the tomb, and we don't know where they have put him!"
3 So Peter and the other disciple started for the tomb. 4 Both were running, but the other disciple outran Peter and reached the tomb first. 5 He bent over and looked in at the strips of linen lying there but did not go in. 6 Then Simon Peter came along behind him and went straight into the tomb. He saw the strips of linen lying there, 7 as well as the cloth that had been wrapped around Jesus' head. The cloth was still lying in its place, separate from the linen. 8 Finally the other disciple, who had reached the tomb first, also went inside. He saw and believed. 9 (They still did not understand from Scripture that Jesus had to rise from the dead.) 10 Then the disciples went back to where they were staying.
Jesus Appears to Mary Magdalene
11 Now Mary stood outside the tomb crying. As she wept, she bent over to look into the tomb 12 and saw two angels in white, seated where Jesus' body had been, one at the head and the other at the foot.
13 They asked her, "Woman, why are you crying?"
"They have taken my Lord away," she said, "and I don't know where they have put him." 14 At this, she turned around and saw Jesus standing there, but she did not realize that it was Jesus.
15 He asked her, "Woman, why are you crying? Who is it you are looking for?"
Thinking he was the gardener, she said, "Sir, if you have carried him away, tell me where you have put him, and I will get him."
16 Jesus said to her, "Mary."
She turned toward him and cried out in Aramaic, "Rabboni!" (which means "Teacher").
17 Jesus said, "Do not hold on to me, for I have not yet ascended to the Father. Go instead to my brothers and tell them, 'I am ascending to my Father and your Father, to my God and your God.'"
18 Mary Magdalene went to the disciples with the news: "I have seen the Lord!" And she told them that he had said these things to her.
Jesus Appears to His Disciples
19 On the evening of that first day of the week, when the disciples were together, with the doors locked for fear of the Jewish leaders, Jesus came and stood among them and said, "Peace be with you!" 20 After he said this, he showed them his hands and side. The disciples were overjoyed when they saw the Lord.
21 Again Jesus said, "Peace be with you! As the Father has sent me, I am sending you." 22 And with that he breathed on them and said, "Receive the Holy Spirit. 23 If you forgive anyone's sins, their sins are forgiven; if you do not forgive them, they are not forgiven."
Jesus Appears to Thomas
24 Now Thomas (also known as Didymus), one of the Twelve, was not with the disciples when Jesus came. 25 So the other disciples told him, "We have seen the Lord!"
But he said to them, "Unless I see the nail marks in his hands and put my finger where the nails were, and put my hand into his side, I will not believe."
26 A week later his disciples were in the house again, and Thomas was with them. Though the doors were locked, Jesus came and stood among them and said, "Peace be with you!" 27 Then he said to Thomas, "Put your finger here; see my hands. Reach out your hand and put it into my side. Stop doubting and believe."
28 Thomas said to him, "My Lord and my God!"
29 Then Jesus told him, "Because you have seen me, you have believed; blessed are those who have not seen and yet have believed."
The Purpose of John's Gospel
30 Jesus performed many other signs in the presence of his disciples, which are not recorded in this book. 31 But these are written that you may believe that Jesus is the Messiah, the Son of God, and that by believing you may have life in his name.
Holy Bible, New International Version®, NIV® Copyright ©1973, 1978, 1984, 2011 by Biblica, Inc.® Used by permission. All rights reserved worldwide.
Sermon
Roger brings this years Easter message via the Virtual Vicar.
Chain Breaker
This is a brilliant version of the song from Harding prison! I was very moved as I watched it. Are you?
The truth is, the risen Jesus comes to break our chains of fear, doubt, unbelief, injustice, sin, rejection and religious views. Praise the Lord!
A Prayer for Easter
Father God, the Stations of the Cross remind us of the path Jesus bore, on his way to the crucifixion. They involve his enduring suffering, insults, moments of support, and intense sacrifice. All, we believe Jesus took for human salvation. His direction, despite this, was onward, true, unswerving and ultimately accomplished all that you, Father, asked of him and gained for us. Help us, in our call for action, especially during this time to set the Easter events as the true standard for our reflection, heartfelt thanks and deeds, we pray.
Mark 14:32 - They went to a place called Gethsemane and Jesus said to his disciples "sit here while I pray". Father, for most of us, this is an extraordinary time, to have become released from the extraneous noise of road and air travel, rest from a time ordered, stress filled, working day. Free from the temptation to visit shops for items we may never need and to be creative with food and our spare time. We thank You for this incredible weather, a chance to spring clean and set in order, long awaited corners of the house and garden. To concentrate on peace of mind, prayer and staying healthy. For this most unexpected reprieve, we thank You.
Father, for those who live in slums, worldwide, where social distancing is unrealistic. We pray that televisions and mobile phones, owned by many, will be a source of education that will enable hygiene literacy and that you will provide them fresh, clean water, in ample supply. We pray that the governments will supply these people with food and protective rations for at least a month, to enable them to stay in their own homes. We ask for them, that strong immunity will have been built up within these communities due to their closely lived existence.
John 19:26 - When Jesus saw his mother there… he said to her, "Woman here is your son". Verse 27, And he said to this disciple, "here is your mother".
Father, we pray for those alone and isolated, for both young and old, who cannot return back to stay with their own families, during this long and uncertain of isolation. For those who fear being sick with no other, physically present, to be available for them. May online support networks and helplines become invaluable. May community creativity and initiatives, that keep everyone aware of their neighbours, especially lone occupant, be blessed by you. We particularly think of homes where domestic abuse has risen due to isolation with violent family members. We ask Father that their will be a every availability of the police, to step in and that safe refuge can be organised. Above all, may we, where possible become temporary sons, daughters and siblings to others, grandparent or children. May this be especially true for those in hospital, care homes and community settings, where loved ones cannot visit. May those who tend them, become valued family, for a time. We thank-you for all 'keyworkers', brave and onward treading as Jesus was. Our thoughts are also with our brothers and sisters in Belgium.
Luke 22:32 - "But I have prayed for you that your faith may not fail. And when you have turned again, strengthen your brothers."
Father, we think of those we might know, who once felt themselves to be truly, 'friends of God', through their witness, discipleship or mission but now there have been long months or years, when this has waned. To be truly human may involve stepping outside of you blessing, until there is an urgent hunger to return to you. Give to all, we pray, a contrite, aching heart that calls upon you again. For you say you will not break a bruised reed nor snuff out a smouldering wick. Let this time bring deep reflection and repentance, for all of us.
The incident in the storm, on the boat, reminds us Father, that we want the wind of the Holy Spirit to blow through us all. We ask that your power, enable us to fight our worst fears, our irritating habits and predictable reactions, that maybe too apparent at this time. We ask that we may be steadied with a new and loving self-control. Rather than to, fearfully react, we ask instead to, faithfully respond. Please replace our tendency to be caught, always on the back foot, unready and indecisive, with a greater capacity, as your beloved, bought as valuable, to serve all, in your power.
All these things we ask in the name of the RISEN Lord Jesus
Amen
Before you go
A blessing for you, this Easter from Roger.
Please leave a comment for others to read if our service has moved or inspired you in some way.
Is there a song or hymn that would fit in with the theme and what God is saying? You can put a link to it in your comments to share it with everybody.
You can use a social media account to log in by clicking the appropriate icon, or not log in at all and post as a guest by clicking the 'Log in' link and ticking the 'I'd rather post as a guest' box.
You will still need to enter an email address for ID, but there is no need to log in with a password.
You can take part in next week's service by following this link.
What's On?
Need Some Help?
If you are self isolating and struggling to get by we may be able to offer some practical help.
Use our request form here to give us your details and one of our volunteers will contact you.
Please note we are only able to offer help within our local community of Trinity Ward, Chelmsford.
Listen to a Service
You can download a selection of our services to listen to off-line on our Listen Again page.
The latest recording can also be found near the bottom of our home page where there is a player that can be used to listen to it or you may download it to listen to later.
From our Foreign Correspondent
India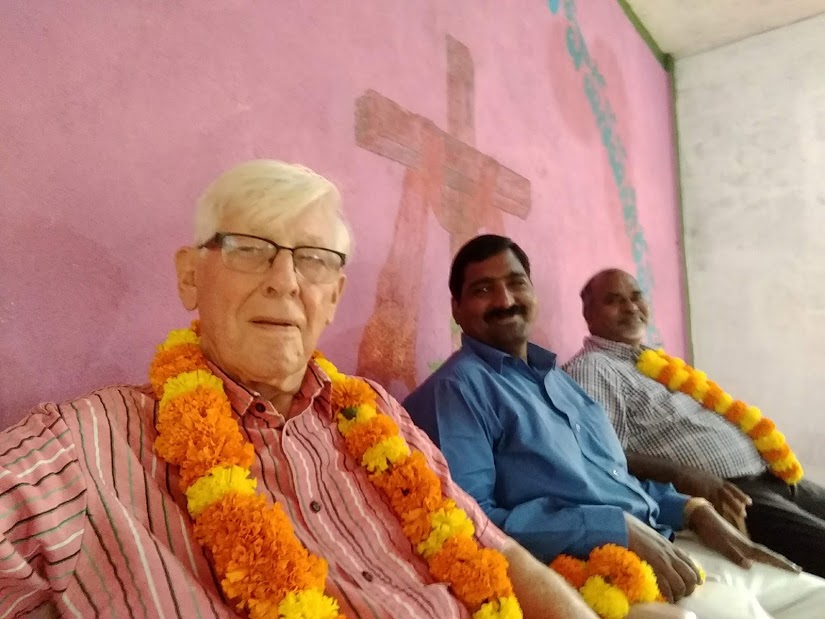 See an account of John Lancasters 2019 visits to India here.
Follow Johns latest mission trips to India and see more pictures of the people and places he visits by joining John's Adventures in India on Facebook.
Tool Box Project
Do you have any spare tools or craft items? We are collecting them for Tools With a Mission. See the list on our Tool Box Project page for details of what we currently need.
Springfield Stitchers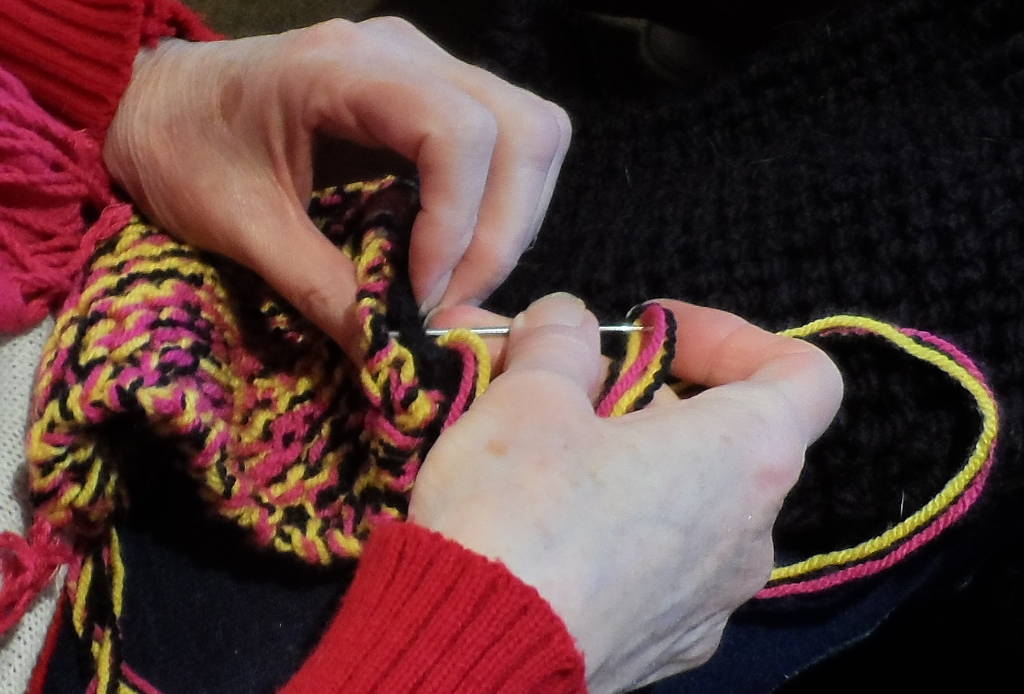 Can you knit, crochet or sew?
The Springfield Stitchers need help with various charity projects. If you would like to help or, if you would like to learn to knit, crochet or sew, or if you have unwanted wool or haberdashery (buttons, zips, thread, fabric, sewing machines) please pop along to find out more.
The Springfield Stitchers meet at "The Coffee Hub" every Thursday 9.30 till 12.00 at Springfield Park Baptist Church. Contact Alison for more information.

As a church we believe in the power of prayer and that it makes a difference in situations and circumstances. We are part of Chelmsford 24-7 Prayer, joining with Christians from across our City to pray for the things God lays on our hearts. Please follow this link for more information about how you and your church can get involved: https://chelmsford24-7.org/. Plans for the near future at Springfield Park involve the setting up of a new prayer space and prayer walks around our local area. Watch this space for developments.

See more from SPBC on Facebook.
Our pages and links
Please only click once on downloads and external site links. External websites will open in a new page or on a new tab so you don't lose your place here, and other items will either open in a new page or download to your default download folder, depending on your device settings.