Sunday Service 19th April
Here is our fourth virtual service in the continuing UK Coronavirus Lockdown. Make sure to scroll down all the way to the bottom of the page so you don't miss anything. If you didn't see last weeks service and would like to catch up, you can see it here.
If you would like to contribute an item for next week's service or for another week contact Roger or leave a message in the comments below. It looks like we will be having to continue with our virtual services for a while, and it will be good to get as many involved as possible.
Crown Him
Our first song this week is performed by Tommy Walker with the Generations Gospel Choir at Christian Assembly in Los Angeles, and Community Bible Church Choir in San Antonio.
Is He Worthy?
Do you feel the world is broken? Listen to this song by Chris Tomlin. This is a responsive song – how are you responding?
Reading, John 21 v 1-25
Jesus and the Miraculous Catch of Fish
1 Afterward Jesus appeared again to his disciples, by the Sea of Galilee. It happened this way: 2 Simon Peter, Thomas (also known as Didymus), Nathanael from Cana in Galilee, the sons of Zebedee, and two other disciples were together. 3 "I'm going out to fish," Simon Peter told them, and they said, "We'll go with you." So they went out and got into the boat, but that night they caught nothing.
4 Early in the morning, Jesus stood on the shore, but the disciples did not realize that it was Jesus.
5 He called out to them, "Friends, haven't you any fish?"
"No," they answered.
6 He said, "Throw your net on the right side of the boat and you will find some." When they did, they were unable to haul the net in because of the large number of fish.
7 Then the disciple whom Jesus loved said to Peter, "It is the Lord!" As soon as Simon Peter heard him say, "It is the Lord," he wrapped his outer garment around him (for he had taken it off) and jumped into the water. 8 The other disciples followed in the boat, towing the net full of fish, for they were not far from shore, about a hundred yards. 9 When they landed, they saw a fire of burning coals there with fish on it, and some bread.
10 Jesus said to them, "Bring some of the fish you have just caught." 11 So Simon Peter climbed back into the boat and dragged the net ashore. It was full of large fish, 153, but even with so many the net was not torn. 12 Jesus said to them, "Come and have breakfast." None of the disciples dared ask him, "Who are you?" They knew it was the Lord. 13 Jesus came, took the bread and gave it to them, and did the same with the fish. 14 This was now the third time Jesus appeared to his disciples after he was raised from the dead.
Jesus Reinstates Peter
15 When they had finished eating, Jesus said to Simon Peter, "Simon son of John, do you love me more than these?"
"Yes, Lord," he said, "you know that I love you."
Jesus said, "Feed my lambs."
16 Again Jesus said, "Simon son of John, do you love me?"
He answered, "Yes, Lord, you know that I love you."
Jesus said, "Take care of my sheep."
17 The third time he said to him, "Simon son of John, do you love me?"
Peter was hurt because Jesus asked him the third time, "Do you love me?" He said, "Lord, you know all things; you know that I love you."
Jesus said, "Feed my sheep. 18 Very truly I tell you, when you were younger you dressed yourself and went where you wanted; but when you are old you will stretch out your hands, and someone else will dress you and lead you where you do not want to go." 19 Jesus said this to indicate the kind of death by which Peter would glorify God. Then he said to him, "Follow me!"
20 Peter turned and saw that the disciple whom Jesus loved was following them. (This was the one who had leaned back against Jesus at the supper and had said, "Lord, who is going to betray you?") 21 When Peter saw him, he asked, "Lord, what about him?"
22 Jesus answered, "If I want him to remain alive until I return, what is that to you? You must follow me." 23 Because of this, the rumor spread among the believers that this disciple would not die. But Jesus did not say that he would not die; he only said, "If I want him to remain alive until I return, what is that to you?"
24 This is the disciple who testifies to these things and who wrote them down. We know that his testimony is true.
25 Jesus did many other things as well. If every one of them were written down, I suppose that even the whole world would not have room for the books that would be written.
Holy Bible, New International Version®, NIV® Copyright ©1973, 1978, 1984, 2011 by Biblica, Inc.® Used by permission. All rights reserved worldwide.
Sermon
Continuing the resurrection story with a challenge.
To the table by Zach Williams
Another song recorded in Harding Prison. It seems like we are all in a prison of sorts. How are you coping?
I am not alone by Kari Jobe
Is this song true for you in lock down? Locked doors or a virus won't keep out the risen Lord Jesus – Praise God!
Prayer time
I will not hurry through this day!
Lord, I will listen by the way,
To humming bees and singing birds,
To speaking trees and friendly words;
And for the moments in between
Seek glimpses of thy great Unseen.

I will not hurry through this day;
I will take time to think and pray;
I will look up into the sky,
Where fleecy clouds and swallows fly:
And somewhere in the day, may be
I will catch whispers, Lord, from thee!

Dear Lord, we thank you for your many blessings to us, for rest and shelter, health and food and the love of friends. We pray that we will use this time of isolation wisely to talk to you and to listen to your voice.
Thank you for everyone who is working hard, despite the lockdown, in order to keep us safe, healthy and fed. We pray for their wellbeing and ask that you would watch over them.

May the love of God our Father
Be in all our homes today:
May the love of the Lord Jesus
Keep our hearts and minds always:
May his loving Holy Spirit
Guide and bless the ones we love,
Father, Mother, brothers, sisters,
Keep them safely in his love.

Amen
Before you go
A final short blessing
Is there a song or hymn that would fit in with the theme and what God is saying? You can put a link to it in your comments to share it with everybody.
So far we have only had 6 comments max if only 6 people are viewing it might not be worth continuing? Please leave some feedback or reply to other comments if you feel the same way.
You can use a social media account to log in by clicking the appropriate icon, or not log in at all and post as a guest by clicking the 'Log in' link and ticking the 'I'd rather post as a guest' box.
You will still need to enter an email address for ID, but there is no need to log in with a password.
You can take part in next week's service by following this link.
What's On?
Need Some Help?
If you are self isolating and struggling to get by we may be able to offer some practical help.
Use our request form here to give us your details and one of our volunteers will contact you.
Please note we are only able to offer help within our local community of Trinity Ward, Chelmsford.
Listen to a Service
You can download a selection of our services to listen to off-line on our Listen Again page.
The latest recording can also be found near the bottom of our home page where there is a player that can be used to listen to it or you may download it to listen to later.
From our Foreign Correspondent
India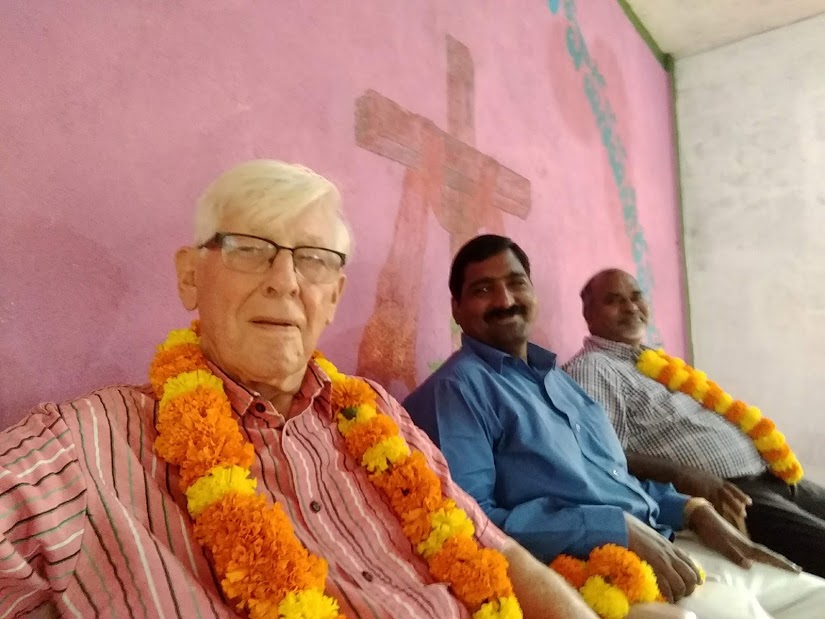 See an account of John Lancasters 2019 visits to India here.
Follow Johns latest mission trips to India and see more pictures of the people and places he visits by joining John's Adventures in India on Facebook.
Tool Box Project
Do you have any spare tools or craft items? We are collecting them for Tools With a Mission. See the list on our Tool Box Project page for details of what we currently need.
Springfield Stitchers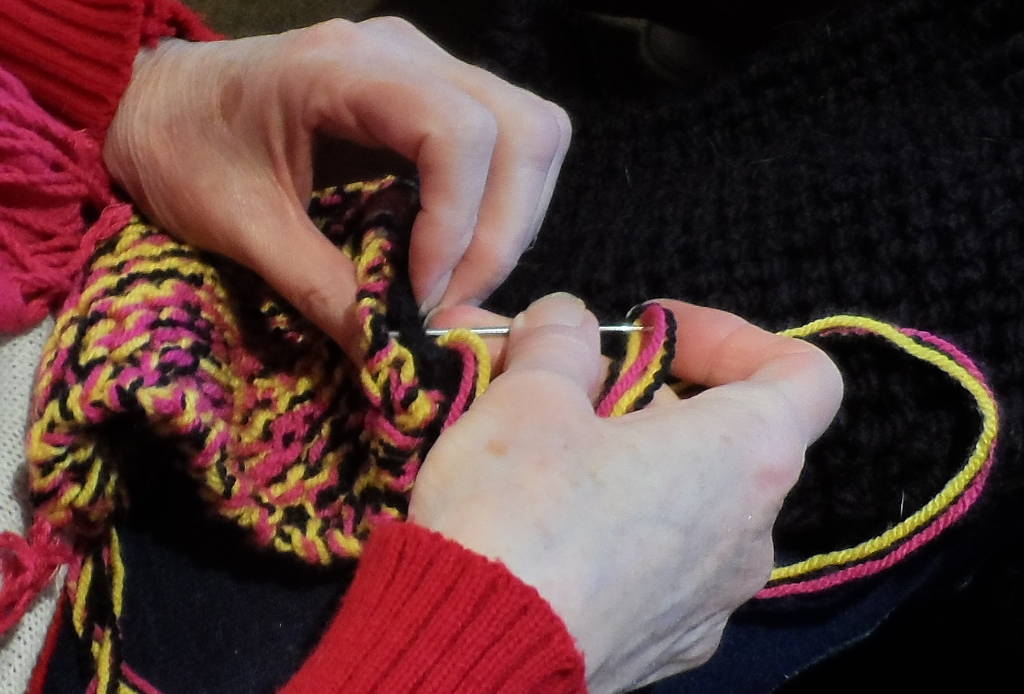 Can you knit, crochet or sew?
The Springfield Stitchers need help with various charity projects. If you would like to help or, if you would like to learn to knit, crochet or sew, or if you have unwanted wool or haberdashery (buttons, zips, thread, fabric, sewing machines) please pop along to find out more.
The Springfield Stitchers meet at "The Coffee Hub" every Thursday 9.30 till 12.00 at Springfield Park Baptist Church. Contact Alison for more information.

As a church we believe in the power of prayer and that it makes a difference in situations and circumstances. We are part of Chelmsford 24-7 Prayer, joining with Christians from across our City to pray for the things God lays on our hearts. Please follow this link for more information about how you and your church can get involved: https://chelmsford24-7.org/. Plans for the near future at Springfield Park involve the setting up of a new prayer space and prayer walks around our local area. Watch this space for developments.

See more from SPBC on Facebook.
Our pages and links
Please only click once on downloads and external site links. External websites will open in a new page or on a new tab so you don't lose your place here, and other items will either open in a new page or download to your default download folder, depending on your device settings.