SPBC News and Updates
This page contains copies of the last 5 messages that have been sent to our SPARK mailing list. Not the SPARK weekly newsletters, just the occasional updates that have been sent to our members and friends. If you would like to join this mailing list please use the form below.
Please add our email address info@springfieldparkbaptistchurch.org.uk to your address book so that our messages will be allowed through to your inbox.
Sunday Worship 18/10/20
Essex has moved into tier two or high alert status for COVID, but the government is still allowing Sunday worship. The wording on their website is:
You can attend places of worship for a service if you're in a high alert level area. However, you must not mingle with anyone outside of your household or support bubble.
The key word is mingle and the definition of mingle is to move among and engage with others at a social function. To make sure that we comply with this you must remain seated; if you want to chat at the end you will be able to do so with the people seated around you. Otherwise please leave ensuring that two meter social distancing is observed at all times. As usual masks are to be worn unless you are exempt.
Please come if you are happy to attend and if you do not feel able then please do watch the live stream on the website. Tea and coffee is not being served so please bring your own drink.
Chris and Otmar
Live Streaming Service
Just a reminder that this week's service will be live-streamed for the first time on our website this weekend, Sunday 4th October at 10am.
You can see the streamed service on the same page as our usual virtual service, so please try to be online in time to join in with us.
Click here to see this week's service at 10am or to view the service later in the day.
Sunday 4th October 10am Start Time
The Sunday service this week starts at 10am as there are several people who like their lie in on a Sunday morning!! One change is that the Government have now instructed that all people attending Sunday worship must wear a face mask unless they have a valid exemption. We will still be serving tea and coffee and your mask can be lowered whilst drinking.
We have also now purchased a hand held thermometer so we can check each person's temperature as they arrive. Anyone outside of safe limits will be asked to go home and isolate until they can arrange an NHS Coronavirus test.
This week we are also going to live stream the service via the website so we would ask that you bear with us as we may not have the best positions for camera and microphones initially. We will have to experiment over a few weeks to discover the best combination to make it a great experience for those watching.
Please let us know if you are coming along this week.
Chris and Otmar
Sunday 4th October
As you are aware, some of us have been meeting together again on Sunday morning for, fellowship. This Sunday will be our 3rd opportunity to get together. These times have not been at all like our church services but probably far closer to the way the early church met together. These new believers had hurdles to overcome and obstacles in their way, just as we have now thanks to a certain virus, as they sought to grow in their faith and encourage each other as Paul urges us to. Chris has done an amazing job of risk assessing everything resulting in an environment that is safe but more importantly, a place where we can once again meet, read scripture together, pray, share testimonies, encourage each other, drink tea and coffee and try and follow Paul's instructions.
These are strange times indeed, but our God has not fallen off His throne and still reigns supreme which we must not loose sight of. We feel that this knowledge and being able to pray together to our God has been such an encouragement these past couple of Sundays. Folk have been able to join together to pray for Annick and Sam in Belgium, those needing jobs who have been laid off during this period, friends who need prayer, Christian brothers and sisters around the globe, Roger and the girls and yourselves.
While this period of time has caused all of us to respond differently with a whole spectrum of feelings, emotions and opinions from those trapped in their homes with terror, extreme paranoia and those at the other end of that spectrum who believe the virus is a hoax. We as Christians know our hope is in something much more solid and sure - the security of who we are in Christ, (as Roger reminded us as he taught us from Ephesians praying also that we would take on board the treasures within this book) and what is to come for us who believe.
It is important for us that we do not allow ourselves to become consumed with something that is now 'On our doorstep' whilst our Christian brothers and sisters in some nations around the globe suffer the threat of death on a daily basis. There are those being tortured and killed for the faith they have in Jesus (particularly in Northern Nigeria), those who continue to struggle to have access to work, clean water, health care and sanitation and those who live with a constant threat of death due to disease and starvation through no fault of their own. The 'Doctors without borders' website notes that a child dies of malaria every 5 minutes around the world and many of these will be the children of our brothers and sisters in Jesus. Let us continue to keep our eyes lifted to God and remember them in our prayers.
This Sunday we will be looking at Psalm 92 with a particular focus on verse 4. While our media continue to promote doom and gloom the story for those who believe is different. We want to meditate on the works of God that make us glad and His deeds which make us want to praise Him. Or perhaps, there is another verse in Psalm 92 that speaks to you as you read it through. We want to take our eyes off the negative and think about that works and deeds you have seen God do during lock down or before that you can share, either in person on Sunday or send via email or text to us at the address below so we can share together. For example, we and our neighbour like to feed birds so we get lots of them coming into our gardens through Spring and Summer. We have a pair of robins that nest each year, sparrows, starlings, black birds, buntings, blue tits, great tits, collard doves, wood pigeons and even a sparrow hawk that makes the odd appearance. We are sure some of you have the same. It has amazed us that God's creation continues to work despite our concerns and the world's chaos. The birds have just continued to 'do their thing' and sung happily throughout the days and it has cheered us up and caused us to praise God and thank Him for these works and deeds that remind us He is in control. Perhaps the bird life has been a blessing for you or there have been other things that have caused you to stop and praise God. If you are coming on Sunday (we are starting at 10am this week) think about what you would like to share, you can write it down and someone else can read it if you are nervous about speaking out loud - there is no pressure. If you are home perhaps you would like to email or text us so that we can share it and encourage one another. If you have a prayer request that you would like us to cover send that as well.
Peter has been working hard to see if we can successfully screen our Sunday meetings so we can all take part and we will try to give it a go this week. However, we will probably have something on the church website as previously just in case. This is a massive learning curve for us all but we will get there.
God Bless you all,
Otmar and Fran
29th September
As you all now should know Roger has tendered his resignation stating that it is due to the current situation. He is leaving Springfield Park after 23 years of faithful, dedicated service to all of us, as well as to countless others who have lived in this area or worshipped at our Church. We have accepted his resignation and his leaving date is 13th December; his last working week ends on 4th October. The final ten weeks of his notice period is made up of 5 weeks accrued annual leave plus 5 weeks of special leave in recognition of Roger's service to our Church.
We have discussed our current situation regarding Sunday Worship, Roger's resignation and notice period with the EBA (Eastern Baptist Association) via our regional minister Nick Lear to make sure we are doing all the right things. Otmar and I are grateful to him for his help and advice at this time as he has a lot more experience about these things than we do.
Roger, Alison, Otmar and I are the Trustees of our Church and we carry shared responsibility for all the decisions that are made. As a leadership team we have discussed the issue of Sunday worship over many weeks and we could not come to a unanimous decision. At this point we really wanted to take the decision to a Church Meeting and the only way to do this was by emailing the simple questionnaire to all members. Although not a legally constituted meeting Nick Lear has confirmed that the Charity Commission, who regulate these things, are operating a relaxed approach in view of the current situation.
Just to let you know about the Sunday services that have taken place, we had 13 attendees at the first Sunday Worship and then this week we had 17. At this week's service we tested a "live Stream" and we are hoping that this will be available to everyone this coming Sunday via the website. Please note that the service will be starting at 10 am this coming Sunday.
We will certainly miss Roger and this is a view that we have heard expressed by many others in our Church. We desperately would want to have some sort of special final service and time of fellowship with Roger but at this moment in time this is not possible.
Please keep praying for Roger, for us and for each other.
Chris and Otmar
What's On?
Need Some Help?
If you are self isolating and struggling to get by we may be able to offer some practical help.
Use our request form here to give us your details and one of our volunteers will contact you.
Please note we are only able to offer help within our local community of Trinity Ward, Chelmsford.
Listen to a Service
You can download a selection of our services to listen to off-line on our Listen Again page.
The latest recording can also be found near the bottom of our home page where there is a player that can be used to listen to it or you may download it to listen to later.
From our Foreign Correspondent
India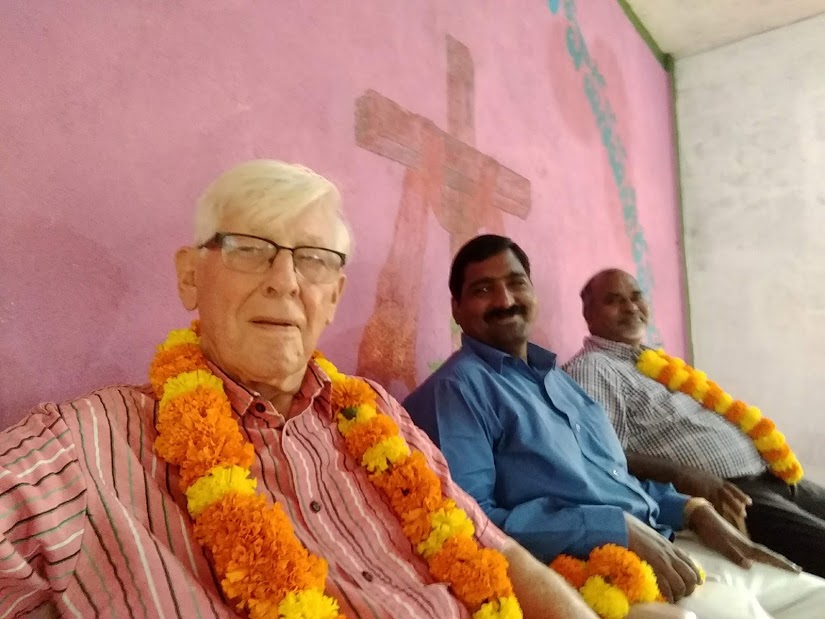 See an account of John Lancasters 2019 visits to India here.
Follow Johns latest mission trips to India and see more pictures of the people and places he visits by joining John's Adventures in India on Facebook.
Tool Box Project
Do you have any spare tools or craft items? We are collecting them for Tools With a Mission. See the list on our Tool Box Project page for details of what we currently need.
Springfield Stitchers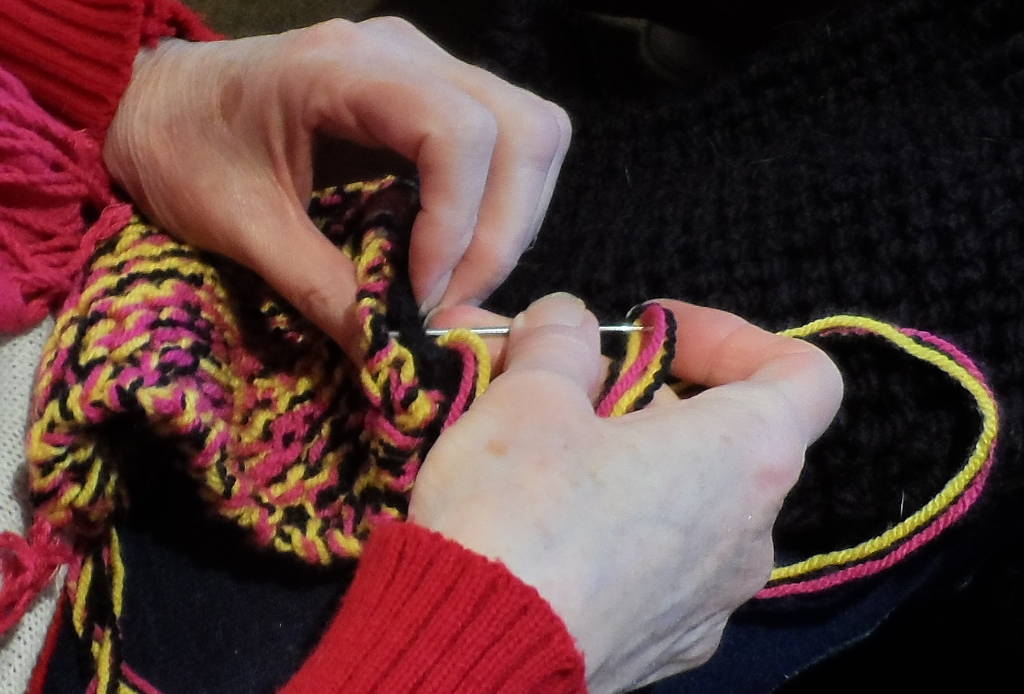 Can you knit, crochet or sew?
The Springfield Stitchers need help with various charity projects. If you would like to help or, if you would like to learn to knit, crochet or sew, or if you have unwanted wool or haberdashery (buttons, zips, thread, fabric, sewing machines) please pop along to find out more.
The Springfield Stitchers meet at "The Coffee Hub" every Thursday 9.30 till 12.00 at Springfield Park Baptist Church. Contact Alison for more information.

As a church we believe in the power of prayer and that it makes a difference in situations and circumstances. We are part of Chelmsford 24-7 Prayer, joining with Christians from across our City to pray for the things God lays on our hearts. Please follow this link for more information about how you and your church can get involved: https://chelmsford24-7.org/. Plans for the near future at Springfield Park involve the setting up of a new prayer space and prayer walks around our local area. Watch this space for developments.

See more from SPBC on Facebook.
Our pages and links
Please only click once on downloads and external site links. External websites will open in a new page or on a new tab so you don't lose your place here, and other items will either open in a new page or download to your default download folder, depending on your device settings.