SPBC News and Updates
This page contains copies of the last 5 messages that have been sent to our SPARK Update mailing list. Not the SPARK weekly newsletters, just the occasional updates that have been sent to our members and friends. If you would like to join this mailing list please use the form below.
Please add our email address info@springfieldparkbaptistchurch.org.uk to your address book so that our messages will be allowed through to your inbox.
7th August
As you will all be aware from the news, from July 19th the Governments COVID-19 guidance for Places of Worship changed as follows:
1. There are no longer limits on the number of people you can meet. This means there are no restrictions on group sizes for attending communal worship.
2. Legal requirements for social distancing will no longer apply and you will not need to stay 2 metres apart from people you do not live with.
3. There are no legal restrictions on the number of people that can attend a place of worship.
4. Face coverings are no longer required by law in any setting. However, the Government expects and recommends that people wear face coverings in crowded areas.
5. There will no longer be limits on the number of people who can sing indoors or outdoors. This includes indoor congregational and communal singing.
These are guidelines but it is up to each one of us who attends to decide whether we want to wear a mask or not. We will however, continue to take your temperature as you come into Church and we will keep a record of attendees.
Chris
5th August
Naomi Spriggs, the applicant for the role of minister at SPBC, her husband Mark and their children Corron and Shaarai will be visiting us to 'preach with a view' on Sunday 8th August. It would be great to see as many as possible in attendance as we reach an important stage in discerning if Naomi is to be our Minister for the next phase of the life of our Church. We must be aware that this is also a chance for Naomi to discern whether SPBC is the right place for her and her ministry.
After the service there will be a Church Meeting to allow those present, both in-person and virtually to discuss the next steps for our Fellowship and whether we should call Naomi to be a part of this. Please pray for Naomi and also for the Church Meeting that we may make the decision that is right for SPBC.
Chris and Otmar
19th July
I do hope you have all had a chance to watch the service yesterday, if you were unable to attend in person. The next stage in the process of trying to select a new minister is for us to decide whether we want Naomi to come back and formally "Preach with a View". I have also included below, Naomi's application profile, which gives more information about her and her background.
As a leadership team we feel the best way to do this is to conduct a poll of all members and we would like you all to respond to this email with a YES, a NO or NOT SURE by lunchtime Wednesday. Please consider Naomi's application prayerfully and then respond to this email as we would like to go back to her Wednesday afternoon.
Chris
(Profile not posted on this page, but available to view on request)
29th June 2021 - Announcement
As announced during Sunday's service we have had an application for minister at Springfield Park and It is from Naomi Spriggs who currently lives in the North West of England. She has seen our Church profile which was circulated by the Baptist Union and we have been in contact with her through Andy our Interim Moderator. As a result we have arranged for Naomi and her husband Mark to visit us over the weekend of 17th and 18th July.
Andy, Alison, Otmar and I will meet with Naomi and Mark to share a meal and then Naomi will preach at our Sunday morning service. It would be great to see as many as possible attending that service so that we can all meet and welcome Naomi. This a very important part of the process of trying to discern who should be our minister in the next phase of the life of our Church. We must also remember that Naomi is also trying to discern whether SPBC is the right place for her and her ministry.
During the service there will be time for a Q & A session so please do let us have your questions before hand as we need to allow those who cannot be present to also have the opportunity to ask a question.
Please pray for Naomi as she comes to visit us, for us as leaders and also pray for each other as we consider her application.
Chris
2nd June 2021 - Message from Andy
The weather is wonderful at the moment and perhaps it is felt more acutely to be so after the months of lockdown we have endured, and even the rain and grey skies more recently.
I wish that church life was also mostly sunny but sadly that is not always the case. Indeed, a quick glance at the life of the early church in the bible reveals it often to be a dark, cloud-strewn place of dissension, disagreement, quarrelling and pain. Fast-forward to today and it often feels not too different, and like we haven't learned anything. How could the early church get it so wrong? And why do we sometimes experience church as a painful place today?
I want to address these questions and more in a mini-series on church and church life starting this Sunday 6th June, and running for three weeks in total. Now I hasten to add that I absolutely do not have all the answers! But I hope I can draw out some of our thoughts and experiences on church life – and specifically those of Springfield Park Baptist Church - and hold them up to the bible.
If that raises more questions and discussion then all the better. The three sessions in the series will be 1. What is the Church, 2. Church and People, and 3. Church and Power. I will also be available for mid-week chat or reflection over the following three weeks and if you want to arrange a time for that as a result of the topic at hand then please just email me and I am sure we can sort something out.
I look forward to sharing with you, and may the Lord continue to bless you. Enjoy the sun.
Andy.
What's On?
Wet Your Whistle
Every first and third Wednesday in the month, join us for a chat and tea or coffee, biscuits and maybe even cake. Click the image for more information.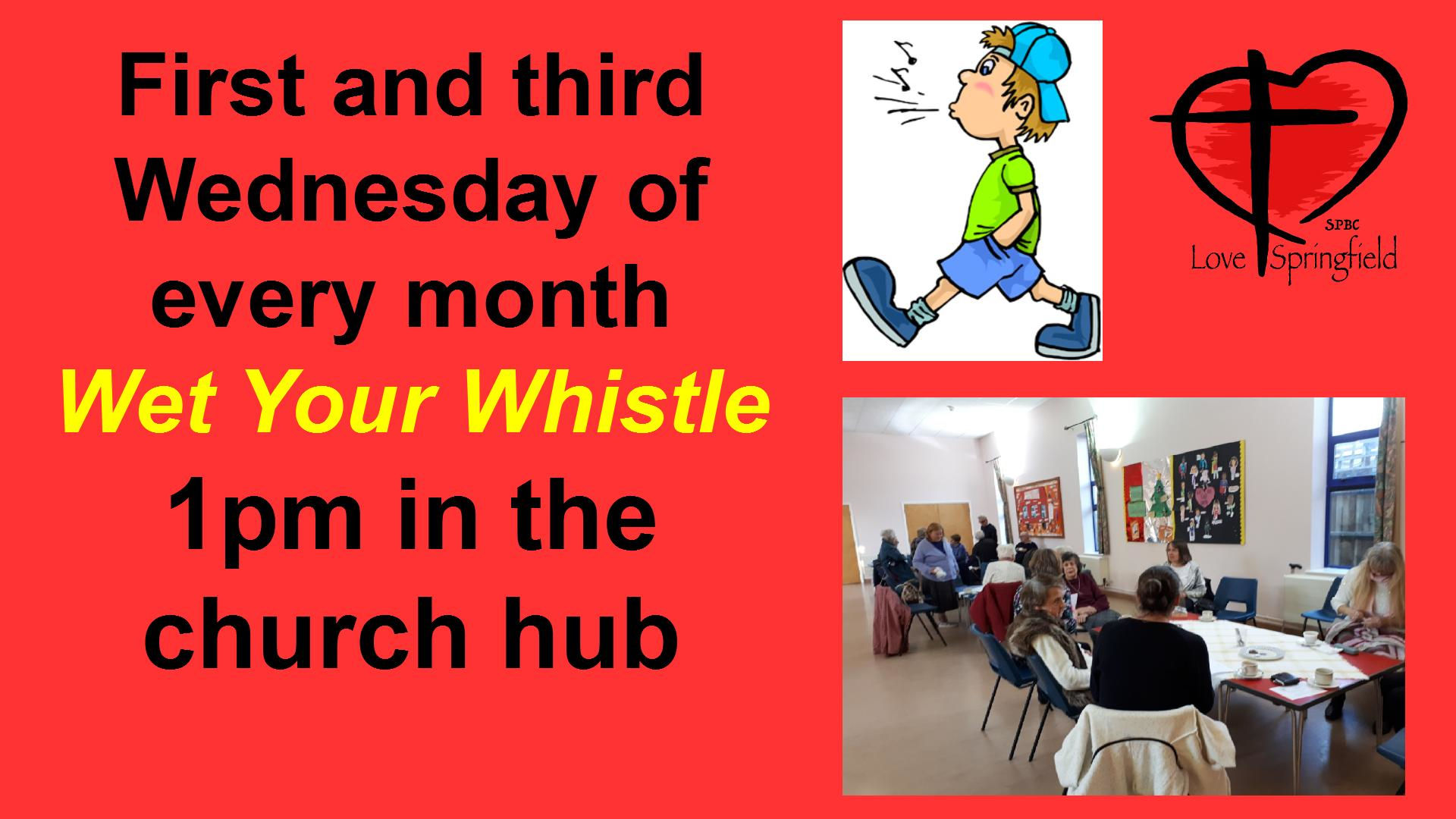 Coffee Hub
Coffee Hub is every Thursday morning between 9.30 and 12.00. Please drop in for tea, coffee and a chat.
Toddler Group
To get us back into the flow, we will be limiting numbers for a little while, so BOOKING IS ESSENTIAL. Also, we would kindly ask for no more than 2 children per adult at this time. We will review the situation weekly, and relax these rules as soon as possible.
Please phone or text Alison on 07741 737351 to book your place. We look forward to seeing you!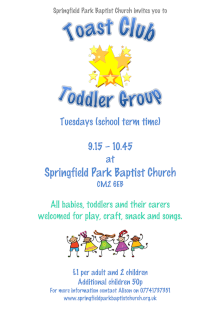 Need Some Help?
If you are self isolating and struggling to get by we may be able to offer some practical help.
Use our request form here to give us your details and one of our volunteers will contact you.
Please note we are only able to offer help within our local community of Trinity Ward, Chelmsford.
Listen to a Service
You can download a selection of our services to listen to off-line on our Listen Again page.
From our Foreign Correspondent
India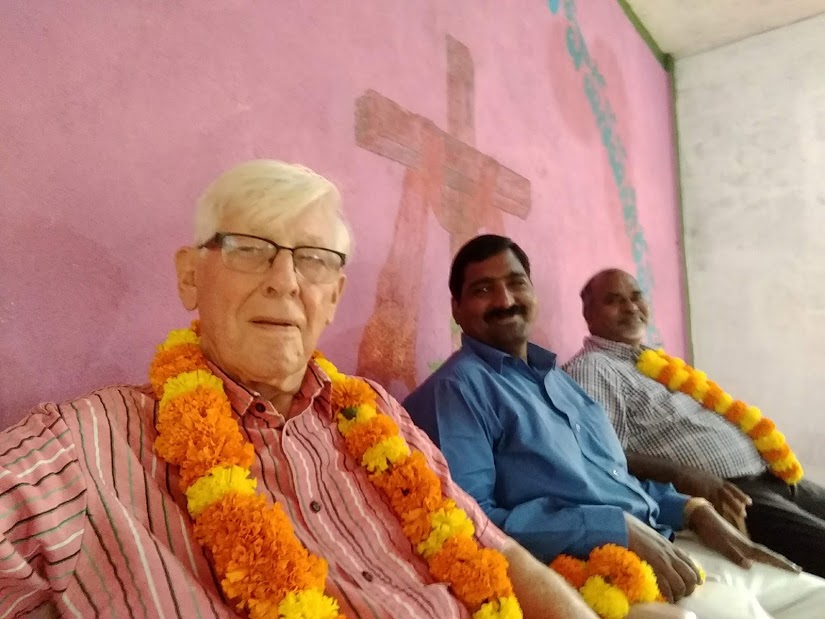 See an account of John Lancasters 2019 visits to India here.
Follow Johns latest mission trips to India and see more pictures of the people and places he visits by joining John's Adventures in India on Facebook.
Tool Box Project
Do you have any spare tools or craft items? We are collecting them for Tools With a Mission. See the list on our Tool Box Project page for details of what we currently need.
Coffee Hub
Come to our coffee drop-in on Thursday mornings from 10am to 12 noon. All welcome for free coffee, tea and a chat.

See more from SPBC on Facebook.
Our pages and links
Please only click once on downloads and external site links. External websites will open in a new page or on a new tab so you don't lose your place here, and other items will either open in a new page or download to your default download folder, depending on your device settings.